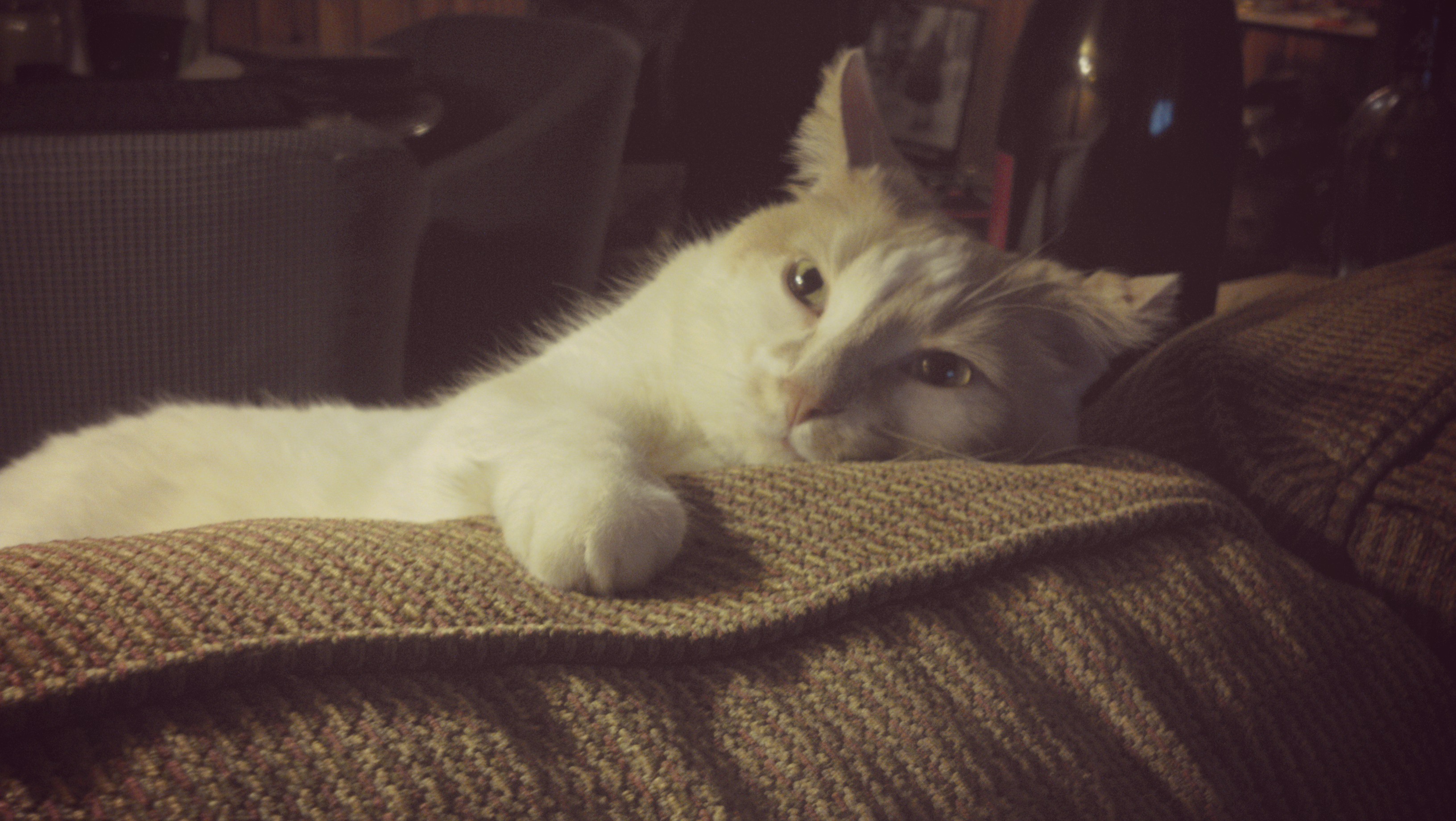 Leonard Ogdon Buffenwhite III, known to his friends and family as "Lenny," went to that great, big catnip field in the sky on August 3, 2016 after a courageous battle with long-term illness. Lenny was adopted from the Western PA Humane Society in 2007, where he was found snuggling under a blanket with two other cats (total ladies man.) Lenny was a descendant of the Turkish Angora breed, which are known for their dog-like mannerisms and "herding" tendencies. Lenny was the Alpha male and let everyone in the Free household know that he was the boss, applesauce. Lenny loved to play fetch with plastic bendy straws and would constantly bite at your ankles until he "herded" you towards the La-Z-Boy where he'd promptly wait for you to drape a cozy blanket on your lap for him. Lenny enjoyed scratching the hell out of our couches, meticulously working through the night to tear the Velcro off of our toddler's shoes, and shredding bath loofahs and balloon ribbons. He loved ice cream, dog food, canned chicken, lunch meat, tuna, er…pretty much anything BUT cat food. He was an avid mouser (pre-new garage door era,) got into running once our kids started chasing him, and towards the end of his life he enjoyed watching chipmunks and squirrels taunting him from the deck.
Lenny was named after the instrumental Stevie Ray Vaughan song of the same name, as he didn't make a peep for the first few days after his adoption. He wouldn't go outside even if you invited him, as he wanted nothing more than to stay cozied up in his house now that he had one. Lenny was a laid-back, handsome old man who always charmed the nurses at the vet and won the hearts of everyone who had a chance to meet him. He was everything you look for in a companion–loyal, fun, snuggly, and just the right mix of feisty and mellow. He was preceded in death by his best friend, Marleigh, and his cousin, Booty. He is survived by his best dog-friend, Abbey, feline cousins Ramona and Spooky, and his wiener-dog cousins in Cleveland, Franklin and Teddy.
In lieu of catnip and laser pointers, please consider adopting an adult cat from your local shelter.
Much love to you Lenny–
Your Family