Location: Panera Bread, Murrysville, PA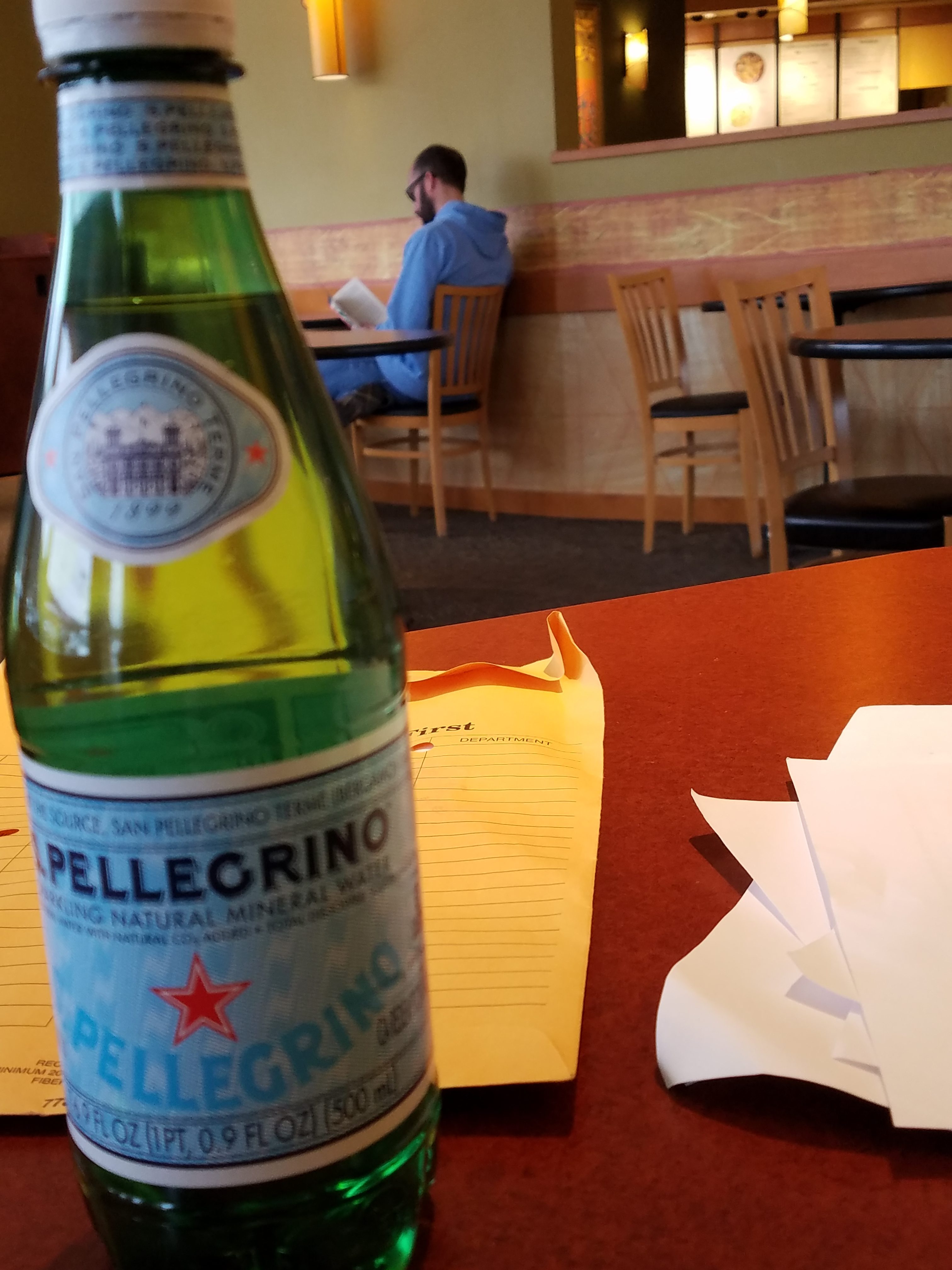 Weather: Low 50's. Overcast and occasionally a light rain
There is an infant dressed in a full-body dinosaur costume. Halloween is six months away.
The couple next to me have been here for a very long time. They ate lunch and then sat and talked for hours. I realize at one point that the romantic in me is outwardly manifesting itself as a mildly creepy girl, dressed in black, oddly smiling at them every time they catch my eye.
There was a man talking loudly about real estate with a younger girl, clearly nervous about meeting with her. (his agent, perhaps?) He talked about his mother and how she was smart about business but was born in an era where her only choice was to be a housewife. He talked about her with great love and respect. Younger girl responds as though she is trying to be nice to a client by responding every time he says something, even when it is not necessary to do so. "Uh huh, yep, oh, uh huh, yea."
Two men in suits are seated at a two-seater table. They pull up a chair for a young woman to join them. She is wearing a tight, black, long-sleeved "Hogwarts" t-shirt and pulls a giant cross-stitch hoop from her baja-style tote bag. The hoop fabric is black and she is 3/4 of the way through a shimmery, sparkly, Asian-inspired dragon design. I'm the cliche writer at Panera Bread on a laptop; she just might be my new hero.
There is a gentleman near me that bears a striking resemblance to my friend, Matt. I pretend to take a picture of my San Pellegrino so as to capture him as he nods in agreement with his book.
They didn't ask me if I wanted an apple instead of a baguette with my lunch. I am just now realizing this 4 hours after eating the baguette.
I took my headphones out and started listening to the conversation of the men behind me. For a while, I thought they were talking horribly about buying women and the kinds of women they prefer. I realize after a while that they are talking about apartment hunting. Relief.
A woman with a German accent burnt a little girl's finger on hot food. My assumption is based on the little girl crying and watching the woman submerge the girl's finger in a cup of ice water.